Thrive@DM
Thrive at Doncaster Mind is a service funded by Doncaster Clinical Commissioning Group (CCG) in collaboration with organisations across Doncaster. It provides mentoring & coaching support to people who access emergency services more frequently than is typically expected.

Is this service right for me?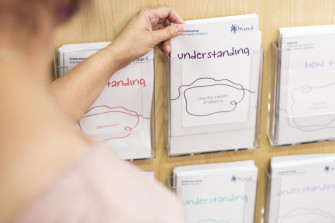 You may be interested in this service if you are regularly accessing A&E, NHS 111, your GP and crisis services to support your immediate mental health and wellbeing needs.
How can the service help me?
Our friendly team will work with you to consider your individual needs and to understand what is happening for you and what matters to you.
Through regular, recovery based mentoring and coaching, we will consider your strengths and encourage you to take control of your mental health and well-being.
We will help you to identify and access a plan of care that is most relevant to you. This may include thinking about:
ways to manage your mental health
thinking about your physical health and wellbeing needs
reflecting on your living skills
understanding the importance of friends & community to you
considering how you use your time
exploring the importance of relationships to you
working to combat addictive behaviour
reflecting on home life
exploring your identity and self esteem
nurturing trust and hope in the future
It may be reassuring to know that you will have a named person who will take the lead in identifying particular difficulties that you may be facing in these areas and working with you through your journey.
Our focus is supporting your recovery by agreeing personal goals and developing coping strategies to support your ability to overcome challenges and manage your mental health and well-being in a healthy way.
We recognise that everyone's journey is unique and that mental health and well-being can change from time to time. To support your recovery, we encourage regular opportunities to review the work together and to make changes where we agree that they are needed.
For more information about the way we work take a look at the Thrive Service User Leaflet 2021.
To start a conversation
You can contact our team via telephone or email to find out more information:
Telephone: 01302 812190
Email: thrive@doncastermind.org.uk
Refer In
To refer into the Thrive service, please complete our referral form. Please provide as much information as possible.
We will aim to contact you within 10 working days.
In an emergency
If you or someone else is at risk of serious harm; please call 999 for an ambulance or access A&E.