Young People In Mind
Young People in Mind is a brand new service that provides support for young people who are finding it difficult to deal with negative emotions and any potential barriers in their lives.
We have opened our doors for young people aged 16 - 25 and are happy to announce we are now taking referrals for young people.
Young people explore different tools and life skills to help them to maintain good mental health and discuss issues that are particularly important to them. 
Our service is designed to put young people at the heart of what we do and we pride ourselves on delivering a quality service to individuals who need our support.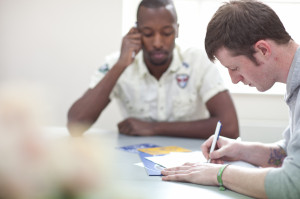 What can we do for you?
We are currently working to grow our Young People's provision and at the moment our range of services include:
What we do:
In our Young People's Service, we can support you with the following:
- Develop good Communication skills
- Help build Confidencet
- Tap into your Creativity
- Managing feelings 
- Planning / Problem Solving 
- Help you to build healthier relationships  
- Build resilience 
- Someone to talk to
How much does it cost?
Doncaster Mind is a non-profit making charity funded through grants, service contracts and by contributions received from clients.
There is no cost for these services.
Make a referral 
Please click on the link of the service you would like to access and the referral link will be there:
What will happen next?
A member of our Young People's service team will contact you to arrange an appointment. At the appointment you will complete an assessment. This can either be by telephone or face to face. This will offer an opportunity to share a little bit more about your situation, explore what support is needed and how receiving the support may be able to help you.
If you feel that the support is something that will be helpful to you, you will then be placed on our waiting list. You will be offered a start date for your mentoring sessions to begin.