Posted: 1st October 2021
Difficult Conversations - Asking for help
Reaching out for support
Seeking help is not always easy. It takes time and courage. It is a big step, and often the first step towards getting and staying well. Remember that you are not alone, and you deserve help and support. When you feel ready, there are plenty of resources to turn to. We have put together some that may help you get started. 
How to ask for help
Decide who you feel most comfortable talking to. It could be family and friends, professionals or support groups, etc.
You could use an agreed signal for trusted others in the household to approach you e.g. an object, glitter, write a note etc.
Think about what outcomes you would like to achieve: to just be listened to, or to receive practical or emotional support?
Practise what you would like to say; what you are finding difficult and what you would like at this time.
Don't make assumptions, ask for clarity or to repeat
Practise 'self-care'

Ensure you have time after the conversation to look after yourself
Allow breaks, silence 
 Who can I turn to
GP – First port of call when you are feeling unwell
Friends, family, carers and neighbours
Research what is available to you locally, for example trained therapists, support groups, community mental health programmes, etc.
Anonymous helplines. For example: Mind Helplines - https://www.mind.org.uk/information-support/helplines/
What can a trusted social support do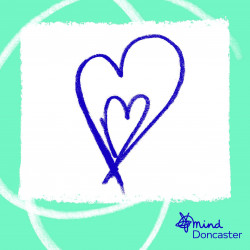 help you to find information
discuss your options with you
come with you to appointments
help out with everyday tasks
give encouragement and support.
How to support someone you're worried about
If someone has disclosed to you how they are feeling, it may be difficult at first to know how to respond. Remember, you don't need to do anything for them, or try to fix it, rather, be with them and let them explain.
Paying full attention to the other person, using eye contact and removing distractions such as your phone.
Allow silence and pauses. This gives time to process what they are saying and be mindful of your responses, as well as giving the other person time to try and articulate their thoughts and feelings.
Avoid giving advice, your own personal experiences, judgments or opinions on what they are bringing to you.
Answers that require a yes or no response can shut down a conversation; ask open ended questions that give the opportunity to elaborate e.g. How do you feel about it now?
Repeating back what they have said to you, it allows people to feel you have truly heard what they wanted you to from their perspective.
*If you think someone is at immediate risk, call the emergency service on 999.