About Us
Doncaster Mind has been around for over 40 years, supporting the mental health of Doncaster Residents. 
Along the way, we've supported thousands of people to learn to manage their emotional wellbeing, become more resilient and feel better. 
We're a small local team of mental health professionals who understand and recognise the challenges unique to Doncaster. This makes us uniquely places to support you with your mental health in our area. We can work together with other mental health services, community groups and support services to access the most suitable support from the local area to help you on your journey to recovery.

"We're a small local team... Small enough to care, but big enough to cope"
How we help
We offer support in lot of different ways - 1-2-1 Mentoring, Counselling and Befriending, THRIVE support for those with complex needs and Group Support in the form of guided learning, peer support and wellbeing groups. 
If you're looking for support, we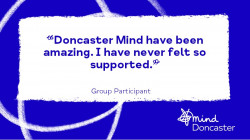 're so glad you reached out. You can find out more about how we support the residents of Doncaster and surrounding area here or if you already know what support you want, you can refer yourself online here
We aim to be able to speak with you within 7 working days. 
Supporting Mental Health Professionals 
At Doncaster Mind, we also support students in Social Care, Sociology, Counselling, Psychology, Art Psychothera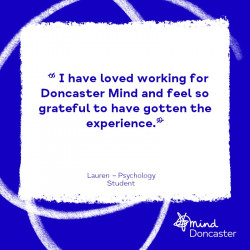 py... who need a placement. We can give you an exciting and dynamic experience of working with people in Doncaster giving you a variety of experiences that you can take into employment. 
We're really proud to work with so many caring and hard working people who have helped us to support our clients.