Peer Support, Guided Learning and Wellbeing Sessions
We've been running Peer Support, Guided Learning and Wellbeing Sessions as part of the Wellbeing Service to support you to feel connected, learn more about yourself and how to take care of your emotional wellbeing and mental health. 
You'll find below an exciting programme of wellbeing activities and peer support groups to support your mental health through Doncaster Mind. As things change throughout the year, we'll update the programme and confirm dates so please keep checking back to see what we're doing and what activities may benefit you. 
Click to download the Wellbeing Programme: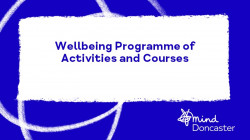 If you would like to enroll on any of these activities please complete our referral form. 
For further information or to speak with one of the team please contact the Doncaster Mind Wellbeing Team on 01302 812190 or email wellbeing@doncastermind.org.uk
Remember, as groups and events are planned in advance they are subject to change. 
Please only attend if you've been invited and by yourself (unless prearranged) as group sizes are limited.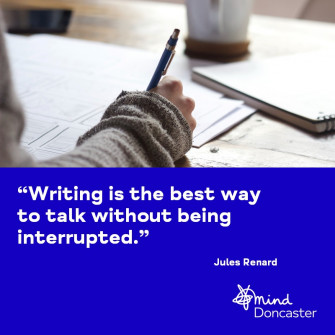 Our Wellbeing and Peer Support groups change periodically to encourage you to learn new ways to support your mental wellbeing, introduce you to different techniques and find other ways of being taught.
We are really lucky to work with a range of Facilitators who can provide different specialisms to provide this service for you.
Our Wellbeing Groups are designed around activities that have been proven to improve emotional resilience and mental wellbeing. They  fall under the following theme and categories:
Physical Activity - such a yoga, cycling or walking
Nature and Outdoor - such as foraging, mindfulness outside or gardening
Crafternoon - such a painting, photography, writing or papercraft
Mindfulness and Relaxation 
You can see more about our Guided Learning sessions here. To refer yourself click here