Posted: 17th June 2022
A Day in the Life of Our CEO
Things have changed quite a bit at Doncaster Mind since 2020! We have a new building, a new wellbeing programme, new parts to our service and some new staff. Including our CEO! 
We thought it'd be great to give you an insight into what has been happening, but also to sit down with Laura and have a chat about what it's like to be CEO of Doncaster Mind and what a journey we've been on!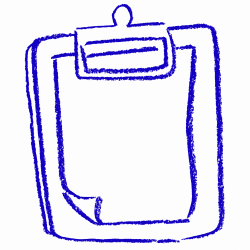 Earlier this year we announced that we had a new CEO! Our very own Laura Arthur, who had been our Finance and Fundraising Officer until this year was successful in the role. 
It's been an exciting journey and so a few months in, it felt it was time to catch up with Laura and find out about her role, the charity and where we aim to be! 
I asked Laura what the CEO of a Mental Health Charity responsible for. Laura said, "As the CEO for Doncaster Mind I am in charge for managing the overall operations of the organisation, responsible for the development and of delivery of the charity's agreed business plans and campaigning for the best mental health provision for the people of Doncaster."
Does a CEO have a typical day?
My days are never the same! I can go from meeting people or businesses in the Doncaster Area, to sitting on meetings campaigning for change or meeting key members of the council or health and our own staff team looking at new challenges or services that we can deliver to improve the mental health provision for the people of Doncaster.
What do you love most about your job?
I love that can support my staff team to make a difference to people's lives and then I get the pleasure to shout to businesses and organisations about how we have achieved this. I have the best job and I am lucky to work in an organisation and field I feel really passionate about.  Without my great team I would not be able to do the job I love, these guys do all the hard work!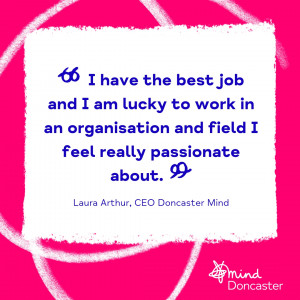 To find out what the other side of the role, I asked Laura what is the most challenging part of her role. 
"The most challenging part of my role is not always having enough resources to deliver the work or make the necessary changes of mental health provision in Doncaster.  In an ideal world I would want all services to be accessible when people need them without any waiting time and this is something that I know me and my team feel very passionate about and we will work hard to keep this as low as possible with the resources we have.  This is why we are always actively fundraising and looking at ways in which we can increase our funding to deliver these much needed services."
So, who can access the service at Doncaster Mind?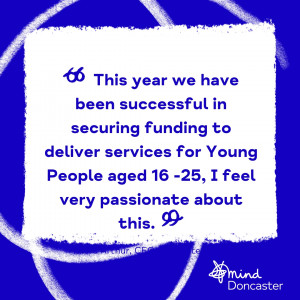 Doncaster Mind have supported people aged 18 and above living in Doncaster and the surrounding area for over 43 years.  This year we have been successful in securing funding to deliver services for Young People aged 16 -25, this is one of the areas I feel very passionate about.  Having three children at home and seeing the impact mental ill health can have on a young person, accessing mental health services at the right time is so important for someone's recovery, knowing that we can play a part in this is so important.
Working in the mental health field, we know that we need to relax and look after ourselves.  What is your favourite way to wind down?  
I love to run, swim or bike! Although I have taken part in triathlons, it's not always about competing; I use physical activity both as a way to relax and to socialise with other likeminded people.  Sometimes after a long day at work and things feel a little too much, it's great to get out and clear my head!  Sometimes it's hard to stay motivated especially when I feel tired but I know once I get out I never regret a session and its about putting one foot in front of the other!
Is there anything else you think we should know?
I have worked for Doncaster Mind for 14 years, joining as a Finance and Admin Worker, I have been part of the challenges and achievements of the organisation, during this time I have worked my way through the organisation to my previous role on the senior management team as Finance Officer.  I have supported our previous CEO's and staff and listened to the stories of the people who inspire us.  I know the organisation inside and out, understand the history, I have been part of the Doncaster community/area and understand the need for excellent mental health provision. 
I am extremely well organised, immensely passionate about my work, a very strong communicator, a strong leader and motivator, and someone who enjoys the challenge of change and the responsibility to continually improve and develop.
I am passionate about the organisation and the mental health provision in Doncaster and with my skills and experience I know I can lead the organisation forward to continue with our growth and sustainability.
What a note to end on - we hope that you have enjoyed hearing from our CEO, her drive, dedication to Doncaster Mind and hope that you'll enjoy and benefit from the changes and work that she and her team put into the services available. 
If you'd like to refer into the service visit www.doncastermind.org.uk/refer, call 01302 812190 and leave your name and what service you hope to access or email office@doncastermind.org.uk