Posted: 4th May 2021
Mental Health Awareness Week
Mental Health Awareness Week is 10 - 16 May 2021. 
This Mental Health Awareness week it's time to step up the fight for mental health. Are you in?
Together, we've achieved so much. We've been there for those who need help and we've been there for each other too. We've given our time, our hearts and our souls and we've changed the conversation around mental health.
Over the years
We have done so much to change how people see their mental health - as something to be cared for as much as our physical health, not as a weakness, but as something that can happen to anyone (1 in 4 in fact!) and to realise that help is available - #youarenotalone. 
We have held campaigns such as the Mental Elf Project over Christmas 2019 with Frenchgate Centre to encourage people to open up about their mental health. We held Craft Workshops, encouraged you to leave your Elf around the shopping centre and got people talking, crocheting and discussing mental health.  
2020's Global Crisis 
During this pandemic, millions of us have experienced a mental health problem, or seen a loved one struggle, for the first time in our lives. Some of us have seen our already fragile mental health plummet, while the support networks around us disappear. We've seen our friends, our partners, our parents, our children and ourselves struggle.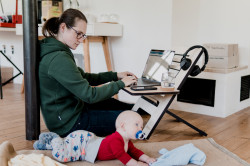 In Doncaster, we've been supporting the residents of our town for over 40 years. 2020 was a huge challenge for the service we offered, changing everything we did and moving it online to make sure that we offered the support we could to as many people as possible in a safe way. 
Supporting our own team's mental health during a time when we were all working apart has meant that our services have been going and our need to manage our self care has been at an all time high.
For them, for us and for you 
We must take this chance to step-up the fight for mental health. That means fighting for change, for fairness, for respect and for life-changing support.  That's where you come in. This Mental Health Awareness Week is your chance speak out, to spread the word and make change happen.
Here's how: 
We're asking you to share your stories and encourage people to talk about mental health as part of a normal conversation. Lets keep working to reduce the stigma. 
Doncaster Mind is a local charity, run BY local people FOR local people.  When you give to Doncaster Mind you're helping people who live in our town - your friends, neighbours and family. You can donate here: https://www.justgiving.com/DonMind